Easy interface, powerful qualitative features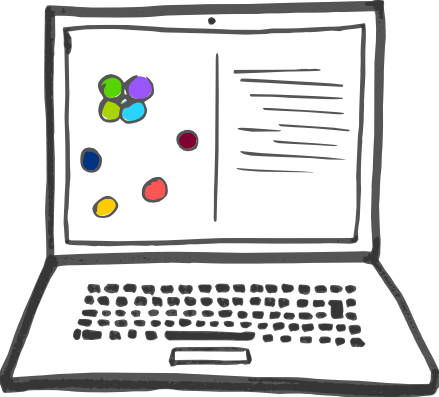 Qualitative research with Quirkos is a fresh experience.

Everything is visual, colourful and engaging. Use the same intuitive interface and features across Windows, Mac, Android or Linux. Projects save after each action so you don't lose work.

Whether you are just starting qualitative analysis or you are a seasoned professional, the process is quick, and keeps you close to your data. Quirkos is the best way to work with in-depth, 'small data'.
Screenshots



Fast code and retrieve
Coding is how you define a section of text as being relevant to a particular topic or node. It's what usually takes the most time in qualitative analysis and when using text coding software, so Quirkos tries to make coding as quick and easy as possible. Just drag and drop a selection of text onto one of the bubble 'Quirks' to assign the text to that code. Quirks grow whenever a section of text is added to them, with the relative size showing the importance of themes emerging from our sources.

Group codes by sub and sub-sub categories
View coded text by node, or in context of the source
Colour-coded highlights show topics within the text
Sort topics by size, name, or manually
Full undo/redo, and remove coding at any time
Keyboard short-cuts for fast coding


Exploring qualitative data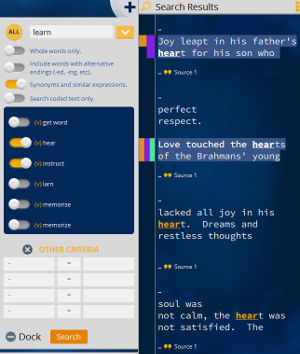 Search
Powerful tools let you search through the text for keywords, helping you quickly find and code relevant sections.
Fast results, showing all your previous coding
Code directly from the search results
Search one source, or the whole project at the touch of a button.
Each search result expands to show surrounding context
Integrated synonym search for related words and antonyms
Refine the search to particular sources or existing coding
Save searches to re-run later
Relationships
The cluster view lets you see if topics are being coded together as you go through your text. Themes get automatically closer the more they are related, which lets you see connected nodes, and the text that overlaps. This can check your assumptions or give you insight into themes you never thought might be connected.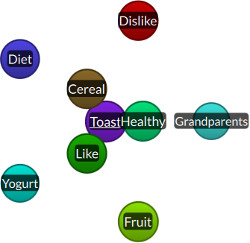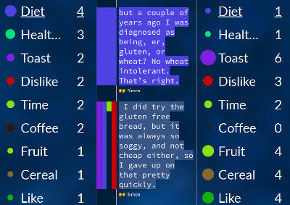 Comparisons
Each source in Quirkos can be defined by a unlimited number of categories. This gives you the power to look at results just from a sub-group of your sources, for example by gender or an age-range. You can even run two queries in a side-by-side comparison view, and see the difference in results from one group to another.
Sources and mixed-methods research
Your Quirkos project can contain dozens of sources, and you can manage and categorise them in any way you like with discrete, numerical or multiple value properties. Include interview transcripts, articles, memos or any other qualitative source, and know you can work with them all, or just one type of source.

Import text, PDF and Word files directly, or create a new source directly from the clipboard. Any data you can open on your computer you can paste into Quirkos, including websites and even Facebook posts.

When working with mixed-method survey data with qualitative and quantitative data, you can create structured question projects to bring all your data into Quirkos. Bring closed and open-ended questions into Quirkos from spreadsheets or survey platforms such as LimeLM and SurveyMonkey. Code the open-ended responses, and analyse the results by your discrete or numerical properties. Quirkos can also produce graphs and reports to summarise your quantitative and discrete data.

Learn More about mixed-methods»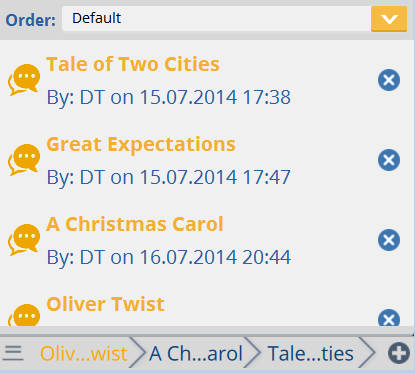 Reports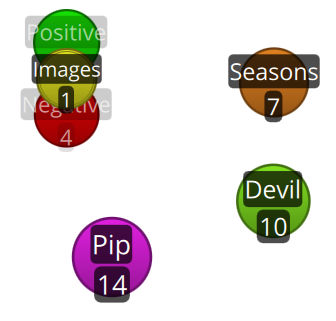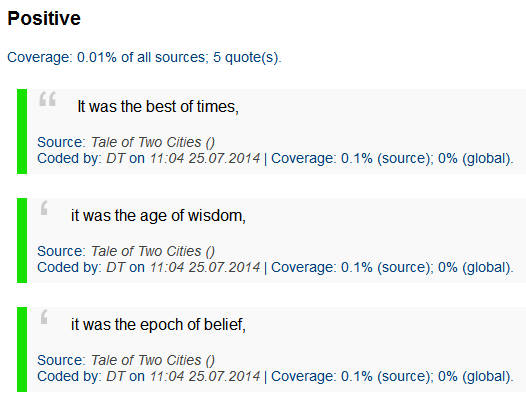 Getting your data from your qualitative project out to the real world is a quick and flexible process with Quirkos. Want to show only the quotes from women aged 18-24? No problem.

Or, generate reports for the whole project, complete with graphical views. Get images to drop straight into PowerPoint or Word, generate PDF reports to share with clients, or create a quick printed copy. You can also create a dynamic and interactive website of your findings which visitors can explore, and customise it with your organisation's visual identity.

Quirkos even lets you export a source as a Word file, complete with all your coding as colour-coded highlights to share or print. You can also export your work as CSV files, to bring your work into Excel, SPSS or other qualitative software packages for further statistical analysis.

You can view an example interactive report here
Teamwork
Quirkos makes team work simple and engaging, with live project sharing and collaboration. With Quirkos Cloud, team members can work on data simultaneously and see updates in real time.

A built-in-chat function lets you discuss with colleagues, and code together from anywhere in the world. Change read or write access with a click, and compare work done by different team members. You can also work across platforms, so users can work on Windows, Mac or Linux as they prefer.

Quirkos makes qualitative research so intuitive that even clients and research participants can get involved in the analysis process. Why not all work around a tablet or touchscreen computer in a group session? Researchers can even give the data to the participants or clients to analyse or explore in their own time.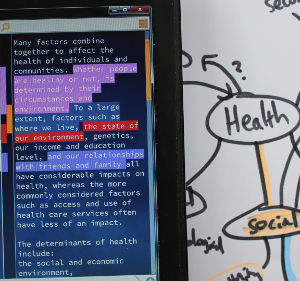 International text support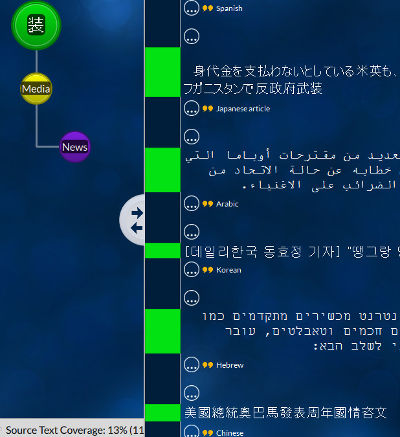 Whatever languages your project uses, it's no problem in Quirkos.

Quirkos has built-in support for working in multiple languages and scripts everywhere: sources, properties, memos, codes, and outputs. Use data sources from Latin based languages, right to left scripts such as Arabic and Hebrew, and even logographic, syllabic and featural based systems such as Chinese, Japanese or Korean.

If your qualitative research is multi-lingual, you can include different languages in the same project, and code across sources from different languages. Just type, copy and paste, or import from an existing source: script types are all detected automatically. In fact, sources can be of mixed scripts, so you can see conversations or translations in multiple languages. You can even perform basic word searches in different languages.


Quirkos Cloud
Quirkos gives you the option to store your data on your own computer, or remotely in our cloud servers. With Quirkos Cloud, you can work on your qualitative projects from any computer with Quirkos installed, just log in and all your projects are available and up-to-date!

Our secure servers keep your data safe and backed up, and have no restrictions on the number or size of projects you can have. Share projects with team members, and work on qualitative data simulatiously for true collaboration. You can manage all your projects from our online user account portal.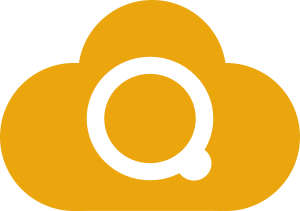 Why not give Quirkos a try?
Download a
free trial
today for Mac, Windows or Linux.