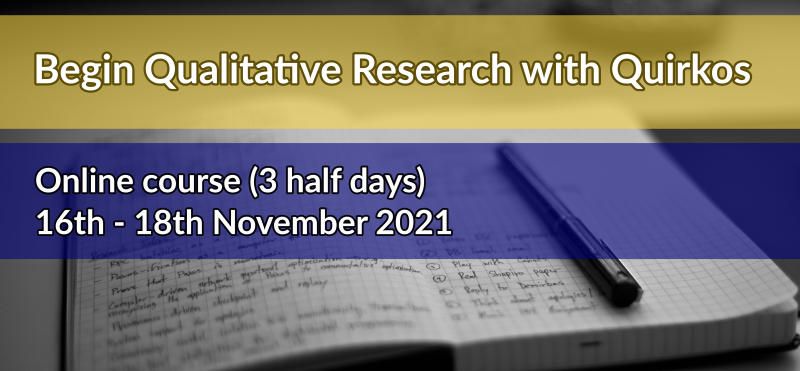 Exclusive Course: Begin Qualitative Research with Quirkos
Registration is now closed, look out for announcements for other courses soon!
This course of three half-day units will prepare you to undertake your qualitative research journey with confidence. Learn about gathering and analysing qualitative data on day one and two, and on day three, engage in an optional workshop on coding and handling qualitative data in Quirkos, at no additional cost.
Dr Cathy Gibbons will use a lively workshop style to help you engage in demonstrations, practice interviews, work with real interview transcripts, use discovery learning and create focused facilitated opportunities to discuss your qualitative research with others.
This course is for anyone new to qualitative research or curious about Quirkos. The course runs 0900-1300 EST/New York, 1300-1700 GMT/London, but wherever you are based in the world, we look forward to welcoming you on the course. You will not need Quirkos for units 1 and 2. Unit 3 is optional and included in the overall course fee of £80.
Course outline:
Unit 1 and 2, PM Tuesday and Wednesday 16th, 17th November
· Understanding rationales in setting up qualitative research projects
· Gathering and transcribing interview data
· Coding, analysing and managing qualitative research data
· Understanding the philosophical basis of qualitative research
Unit 3 PM Thursday 18th November (optional)
· Coding and analysing qualitative data with Quirkos
Learning outcomes
By the end of units 1 and 2 you will have:
· used practical tasks and examples from a real project on qualitative researchers lives to understand qualitative research tasks, such as interviewing, data coding and analysis, and research management
· understanding of the fundamental principles of qualitative research methodology, including epistemology
· reflected on how you will approach your own project in the light of new understanding
By the end of unit 3 (optional) you will have:
· understanding of the benefits and limitations of using Computer Aided Qualitative Data Analysis Software (CAQDAS)
· seen demonstrations of the research process in action, using Quirkos
· been tested on the skills for using Quirkos in qualitative research tasks
FAQ
Do I need to download Quirkos for the course?
Where do I get Quirkos?
You will not need Quirkos for Unit 1 and 2, but you must have it for Unit 3 of the course. Download the free trial version here.
Do I have to take all 3 units of the course?
I don't know if I want to do unit 3, do I have to decide now?
I only want to do unit 3, is that OK?
You are expected to take both unit 1 and 2. Unit 3 is optional. Once you have registered you are automatically registered for all 3 days. You can even decide to take the extension after you have finished unit 1 and 2. If you only want to do unit 3, that's fine too; there is only one registration for the whole course. Send us a courtesy email to let us know that you will only be attending unit 3 cathy@quirkos.com
Remember to download the free trial version here.
I'm a student, can I have course discount?
The course is already being delivered at a low cost with no additional charge for unit 3, so no discount is available for the course. If you decide to subscribe to Quirkos, student discount is available on the software.
Course will run in the afternoons of 16th 17th, 18th November '21 UK time or mornings East Coast USA time. (i.e. 1300-1700 in Edinburgh and London, 0900-1300 in New York)
Registration is now closed, look out for announcements for other courses soon!
Full instructions will be emailed to you two days before the course starts, including how to download a free trial version of Quirkos for use in unit 3. You can also watch a sneak peak of a small section of the course here:
Please email cathy@quirkos.com with any questions and we look forward to meeting you!