Updates on Quirkos Web
Last year we announced and teased Quirkos The Next Generation - all new Quirkos designed afresh for your browser, with all the projects, data, features and functionality on any device, and it's coming soon!


Last year we announced and teased Quirkos The Next Generation - all new Quirkos designed afresh for your browser, with all the projects, data, features and functionality on any device.
Although the data and functionality is the same, and indeed all the magic technology behind the scenes that allows Quirkos Cloud users to store their projects, share and collaborate live, in real-time is identical, making Quirkos work well on any browser is a big undertaking. So we are a little behind, but hoping to release publicly in March 2022. It's the first time we've put a date to it, but are confident that we are nearly there!
Again, it comes at no extra cost for Quirkos Cloud subscribers, and although some new features (like emojis, and pictures) won't be shown in older versions, there's still backward and forward compatibility, so you can keep working with people using the desktop version. Although there's no reason you can't use both, you can just jump into a webpage to do a bit more work...
The plan is, by the end of 2022, we will release a new offline version, with the same layout and functionality as the web version. This will replace the current desktop client and offline/local storage mode for people who can't store their data in the cloud. It will then ensure 100% forward and backward compatibility, even with new features.
But, with the extra time, we've also been able to add something I've actually been dreaming about for about 10 years now - a qualitative data analysis tool that is specifically designed for tablets and phones.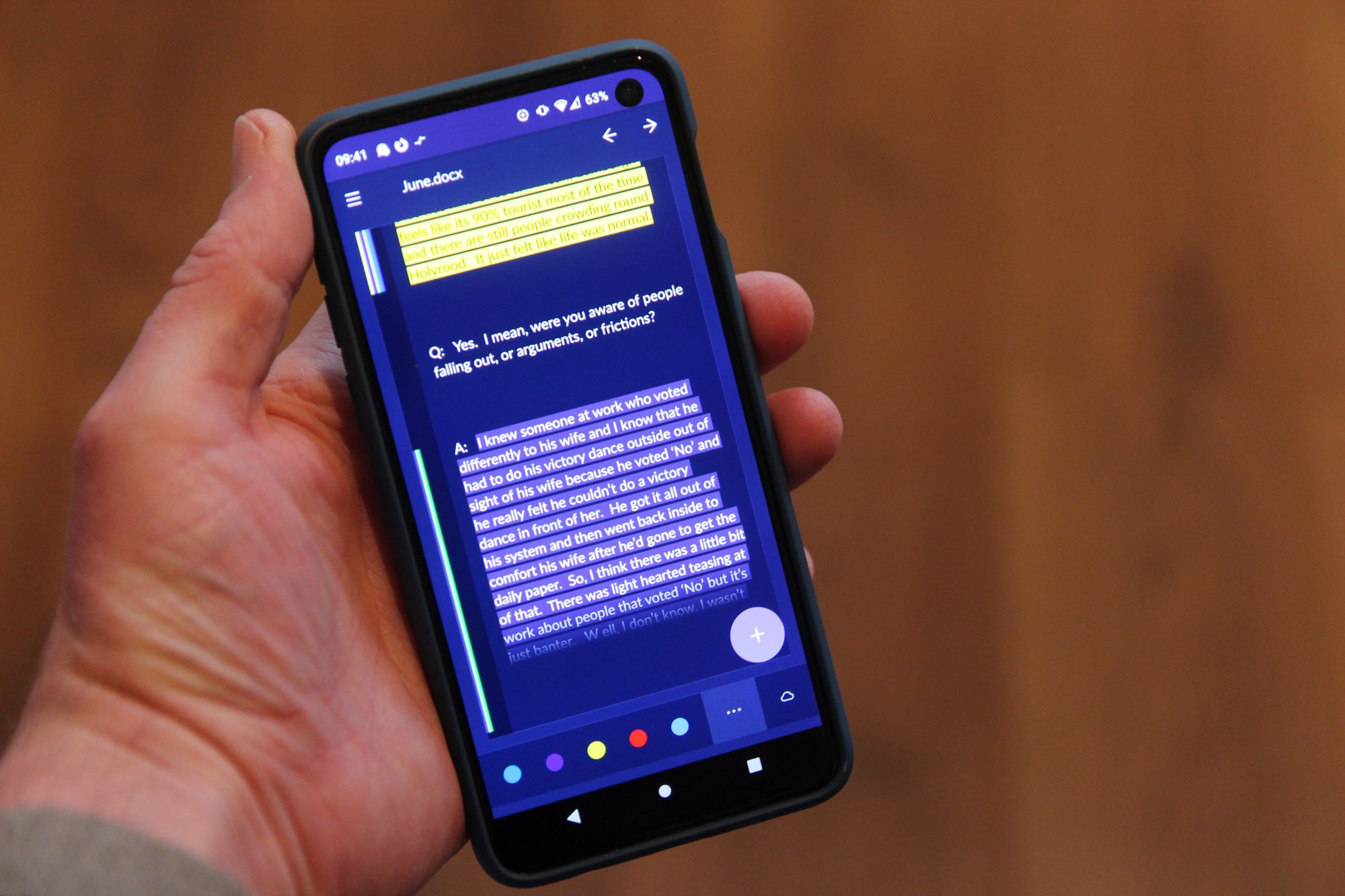 Yup, that's my normal Android phone, in my kitchen. And I'm able to not just view, but code and edit and explore a Quirkos project while collaborating live with others. And you can do it on a train or bus too - anywhere you have internet connection. And there is no app to install. Just open the Quirkos Web page, and everything's there. Put the phone or tablet in landscape mode, and the full view appears again.
We are pretty sure that no other CAQDAS is able to offer this at the moment. While some have 'companion' apps that allow you to view, or perform basic functions on your projects, this is fully capable, and again with nothing to install. Yes, and we are testing with Chrome, Safari, Firefox, Edge, you name it!
And that's a huge deal for many people: those who use Chrome OS (the fastest growing operating system in the education sector), staff and students that aren't allowed to install software on their computer. By making everything work in a web-browser, we remove a lot of IT and security headaches, and everyone will always be using the most recent version.We've always been proud to support identical functionality on Windows, Mac and Linux, but this allows us to increase accessibility even further.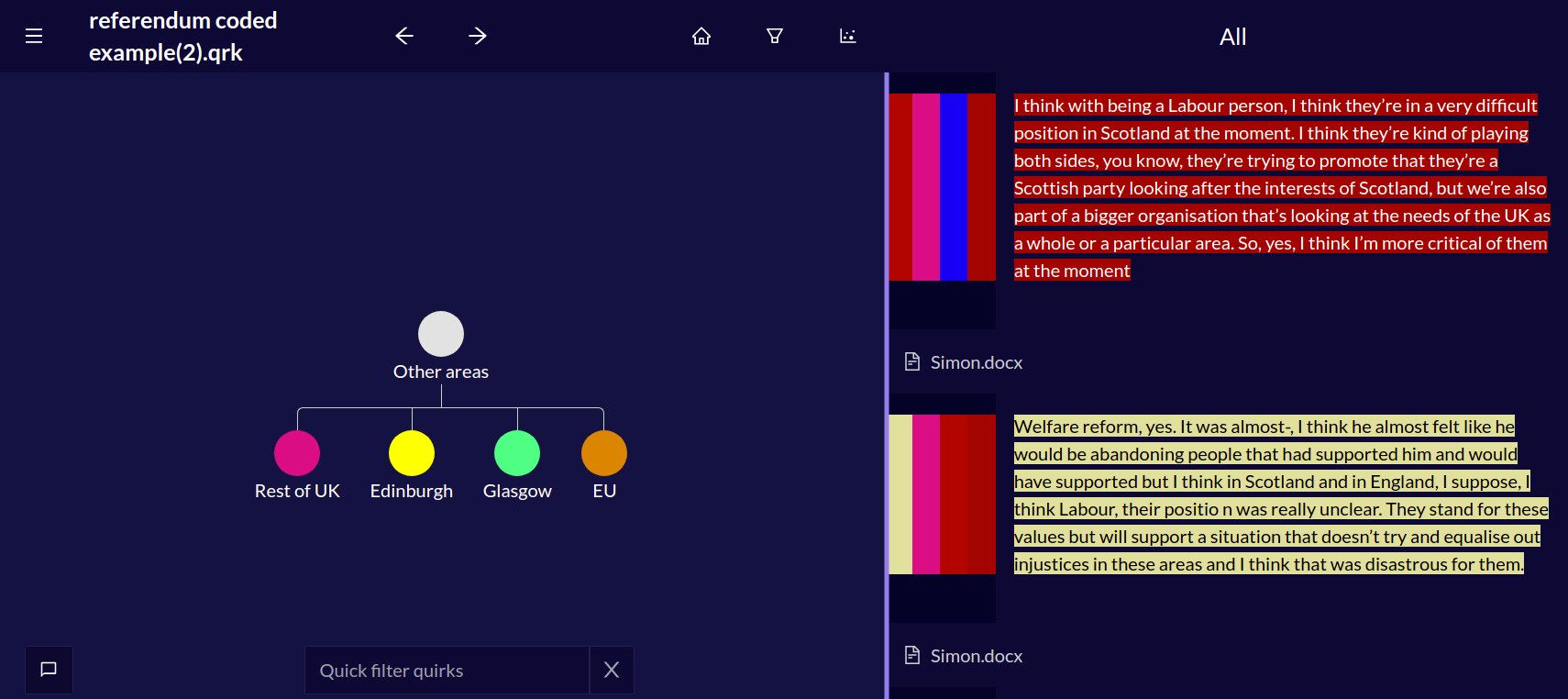 There's a lot of new functionality we've not detailed yet, so there are still surprises to come. Including entirely new ways to work with qualitative data that make it more intuitive and like using pens and highlighters. But as always, these features aren't driven by a desire to add shiny new toys - I feel many of our competitors have become too complicated because of this feature bloat.
Our focus remains steadfast on pure, small scale (big depth) qualitative researchers. There are no inappropriate statistical summaries, or crummy AI or machine learning that doesn't understand the human experience. Our focus remains on creating a simple and visual tool to help researchers read, explore and better understand their qualitative data. Our primary focus has always been making qualitative research more accessible, so that anyone can use it to tackle wicked issues in society.
I'm always amazed and humbled by the amazing work researchers have done using Quirkos. We don't have anyway to see who is using Quirkos or what people are using it for (for obvious confidentiality and privacy reasons) so unless someone gets in touch, the first I see research done with Quirkos is when something new is published. And I see fantastic work, illuminating inequality and inequity, giving voices to the marginalised, and especially in the last few years, a torrent of work on how global epidemics affect as all.
One of the key lessons for me as COVID continues, is how important it has become to be able to work anywhere, in whatever time you can manage to find. But it's also made it clear how important it is to still work with others - to challenge, share and help the load. It's been a long journey, but we've designed the next version of Quirkos to make both these things a little easier for qualitative researchers: both our current users, and the next generation to follow.