Getting started Guides

An overview of Quirkos, starting your first project, organising codes and making reports.




Manuals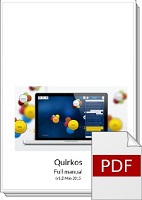 Full Manual
Download the Full Quirkos Manual, providing detailed guidance, and functionality of each feature. (English only)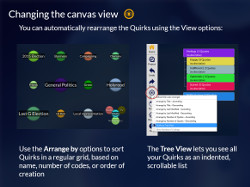 Powerpoint Slides
Download example teaching slides, with a visual feature-by-feature explanation.


Workshop and example materials

Breakfast habits
Fictional interviews with 4 respondents, forming an example project for learning Quirkos, or any qualitative analysis software. You can download the raw sources in a variety of formats, or see coded Quirkos project files, and example outputs including reports.

Interviews on the Scottish Referendum
In 2014 we conducted semi-structured qualitative interviews with 12 respondetns about their thoughts on the Referendum for Scottish Independence. All the interview transcripts can be downloaded, and used as an example project to learn Quirkos. There are also coded project files, and a report created using Quirkos for analysis.